TEHRAN(Bazaar) – "The Origins of Unfairness" is a book written by Cailin O'Connor and published by Oxford University Press.
In almost every human society some people get more and others get less. Why is inequity the rule in these societies? In "The Origins of Unfairness", philosopher Cailin O'Connor firstly considers how groups are divided into social categories, like gender, race, and religion, to address this question. She uses the formal frameworks of game theory and evolutionary game theory to explore the cultural evolution of the conventions which piggyback on these seemingly irrelevant social categories. These frameworks elucidate a variety of topics from the innateness of gender differences, to collaboration in academia, to household bargaining, to minority disadvantage, to homophily. They help to show how inequity can emerge from simple processes of cultural change in groups with gender and racial categories, and under a wide array of situations. The process of learning conventions of coordination and resource division is such that some groups will tend to get more and others less. O'Connor offers solutions to such problems of coordination and resource division and also shows why we need to think of inequity as part of an ever-evolving process. Surprisingly minimal conditions are needed to robustly produce phenomena related to inequity and, once inequity emerges in these models, it takes very little for it to persist indefinitely. Thus, those concerned with social justice must remain vigilant against the dynamic forces that push towards inequity.
Following is the interview with Professor Cailin O'Connor about this book:
Cailin O'Connor is an Associate Professor of Logic and Philosophy of Science and a member of the Institute for Mathematical Behavioral Science at the University of California, Irvine. She is a philosopher of science and evolutionary game theorist. O'Connor engages in both theoretical and experimental work on topics ranging from scientific communities, to false beliefs, to moral emotions, to signalling. She is the co-author of "The Misinformation Age: How False Beliefs Spread" (Yale 2019, with James Owen Weatherall)
Bazaar: What has been your main question in this book?
O'Connor: My book asks why unfair norms, especially involving gender and race, are so widespread across human societies.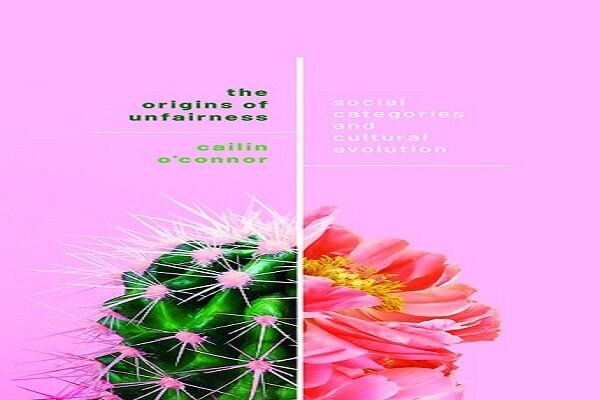 Bazaar: What Hypothesis did you use to answer this question? What is your central argument?
O'Connor: The central argument is that processes of interaction, especially joint labor and bargaining, tend to push us towards these unfair norms.  This happens in cases where we recognize categories of people as different – whether these are genders, races, religions, etc.  We tend to use these differences to ground rules about who does which jobs, and also who gets how much.  I used cultural evolutionary models to show why categorical differences make these unfair norms likely to arise.
Bazaar: What was the necessity of writing this book?
O'Connor: Many people have used models to think about unfairness and inequality.  But relatively few people have used models of cultural evolution and cultural change to do so.  When we look at unfair systems in the real world, though, they are often developed slowly over a cultural evolutionary time period.  The goal here was to see how these models can inform our understanding of unfairness.